Rewards Program
All drivers qualify for Tier 1 rewards. For Tier 2 eligibility, see qualifications. Terms apply, see each offer for details. Terms are subject to change without notice.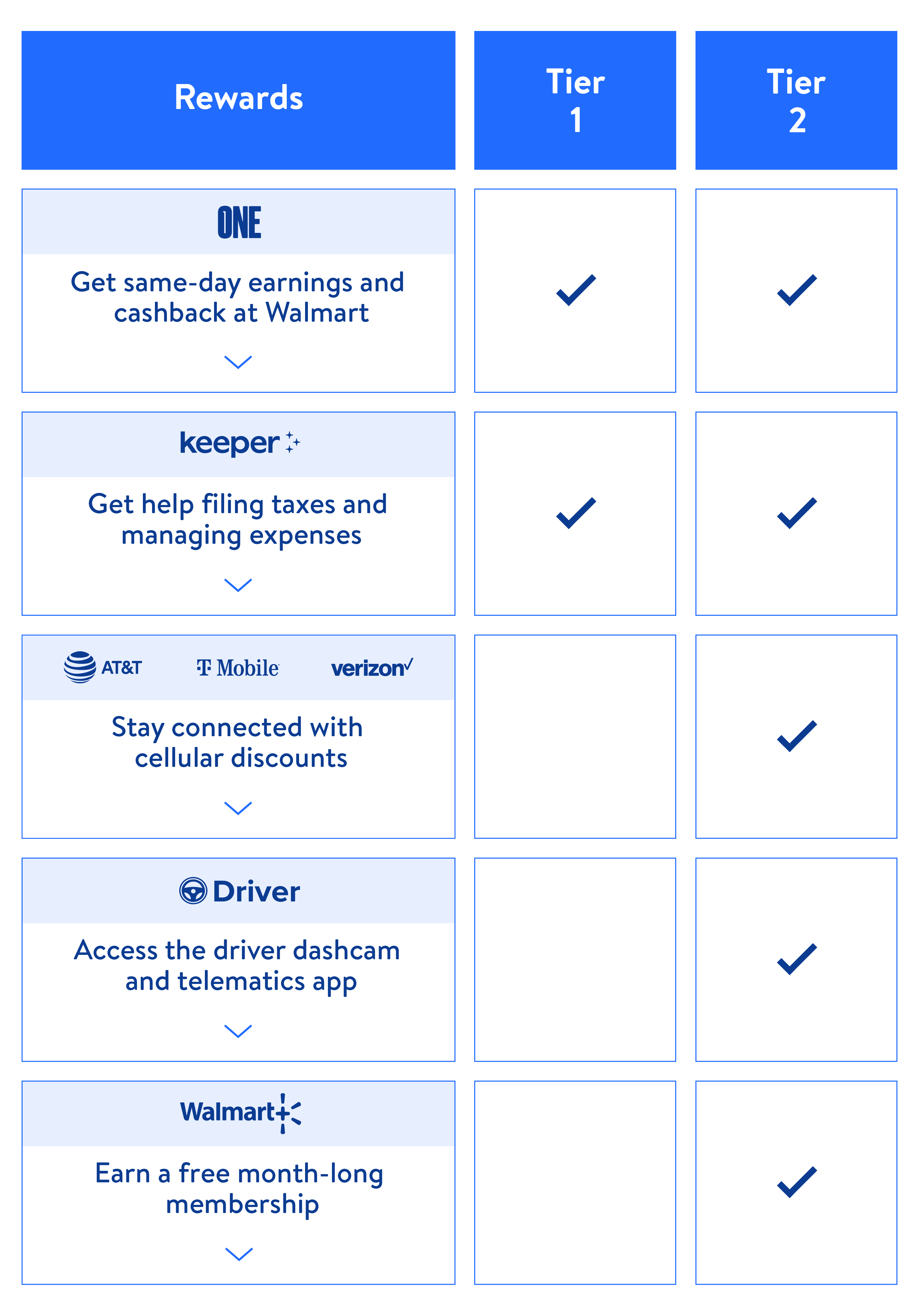 Rewards Program
ONE 
ONE helps you save, spend, and grow your money - all in one place. Find out more information about ONE. 
Keeper 
Get up to 65% off this app for tax filing and expense tracking. Click here.  
AT&T 
Drivers can save $10 a month per line on AT&T wireless phone plans. Learn more. 
T-Mobile 
Discounted plans available for unlimited data in the U.S. and unlimited calling and texting. See details.  
Verizon 
$35 unlimited data, talk, text, and hotspot. Details will be available in the qualification email. 
Driver Technologies 
With this dashcam and telematics app, receive 6 months of the Driver Premium plan and the driver cooler phone mount for $19.99. Learn more.  
Walmart+ 
Qualifying drivers will get a free one-month membership to Walmart+, Walmart's exclusive membership program that includes: 
Free shipping and delivery 
Fuel discounts  
Discounted prescriptions 
Walmart+ travel 
Early deal access 
Free access to Paramount+ 
Free returns 
Check out the Walmart+ page for full details and additional FAQs.
Qualification information 
All drivers in good standing qualify for Tier 1 rewards. To qualify for Tier 2 of the rewards program, you must complete at least 20 trips in a calendar month and have a 4.7 or higher Customer Rating in My Metrics by the last day of the month. Qualifying criteria is subject to change. Be sure to check your email for updates. 
Spark Driver Rewards Program terms and conditions can be found here. 
Rewards Program FAQs
If you qualify for the rewards program, you will get an email the first week of every month, that includes your unique Walmart+ membership code. If you think you may have qualified but didn't receive an email, please contact Driver Support.
Qualifications for the rewards program are updated every month. If you fail to qualify one month, you can be eligible the next month.
Yes. You will get a new membership code for each month that you qualify.
If you are an existing member of Walmart+ and you qualify for the Spark Driver Rewards Program, your membership will be extended based on the number of months that you qualify.
Use of Walmart+ is subject to the Walmart+ Terms of Use, which can be found here.
---
---